My trip to Udaipur started earlier, on January 25th, from Mumbai to Jaipur. I started with my better half and little half!
Jaipur & Temples (Jan 25 and Jan 26)
Jaipur was used only for landing. The only thing we did in Jaipur was to have Rawat's Kachori on the way ahead and dinner again at Rawat's Restaurant on the way back.
From Jaipur, we went to Khatushyam Temple, Rani Sati Temple, and Salasar Temple.
Sounds too many temples? Well, I am still an atheist. But my wife is a devotee of these places, so we make a trip containing these temples once in a while. It was our third trip in last four years.
On way back, we took a train from Jaipur to Udaipur. At Jaipur railway station, I saw Railwire Google Wifi for the first time. It had incredible speed!
Reaching Udaipur (Jan 27)
I arrived early in the morning. But the hotel, Gangaur Palace (TripAdvisor link) we booked, was very accommodating and gave us fee early check-in.
As soon as we did unpacking, we went to the hotel's restaurant which served delicious breakfast.
Coincidentally, I met Bigul and his family at breakfast. They were staying in a different hotel but came to our hotel restaurant for breakfast.
We were joined by two rtCampers Chandra and Sanket and also Chandra's cousin. These three were staying in the same hotel as we were from a day before.
After breakfast, I went back to our hotel room and started working on my WordCamp Udaipur presentation as part of talk which was on the next day.
It was my fourth trip to Udaipur. As I have many friends in Udaipur, Rajshree and I had seen most the city already on our previous trips.
Still, towards evening my family & I went for a boat ride along with Vivek and my local friend Ashwin.
Later in the evening, we went for speaker-sponsor dinner. It was organized at a gorgeous venue called Raas Leela. It was a great experience by all mean – food, venue and of course networking.
We rushed back to our hotel on time so we could wake up early next morning for WordCamp Udaipur.
WordCamp Udaipur (Jan 28)
WordCamp Udaipur venue was outside the city, but WordCamp organizers booked some buses to ferry people from the city to the venue!

One of pickup point was just a kilometer away from our hotel, so we did not have any issue reaching the venue.
Even though we had breakfast at our hotel, I had a small breakfast again at the WordCamp! Foodies don't need a reason (or hunger) to eat!

The WordCamp started nicely. I did the speed test as part of my habit. I was blown away by the result!
Unbelievably fast Internet @wcUdaipur! I tested 5 times and it's the same result! 😲 🤔 🙇#WCUdaipur pic.twitter.com/IygFHg5Ygf

— Rahul Bansal (@rahul286) January 28, 2017

I attended few sessions. My favorite one was Nirav's session. Apart from the information Nirav shares, I wish to steal his presentation skill, somebody!
Gem from @niravmehta @wcUdaipur 👌😇#WCUdaipur pic.twitter.com/wKDGK5gHny

— Rahul Bansal (@rahul286) January 28, 2017
My talk
Some people whom I met said I did a good job. But I think otherwise.
It was the first time; I couldn't finish the presentation part in time. There was no time left for Q&A which I wanted to be a bigger part.
On way back, my colleague Joel Abreo and I discussed what I could have done differently.
If you attended my session and had any critical feedback, please share. I need it to improve!
If you were not there, you might check my slides.

WordCamp Udaipur After Party
Again, WordCamp Udaipur organizer arranged for buses to drop inside city or afterparty venue.
As there was more than an hour left to after party, I choose to go the hotel with my family. I had dinner with them at our hotel. Our hotel's restaurant guy was very nice and during discussion at dinner, he offered to organise "mutton-bati" party for our group during next day at lunch.
As dinner and next day's party discussion took some time, I reached after party little late. I spent like 2-3 hours talking to meeting with other WordCamp folks there.
Farewell Lunch (Jan 29)
Today was our last day. Almost 20-25 of us gathered in our hotel for what was originally planned a lunch together for 12-15 people.
There were 8 rtCampers that were already staying in same hotel and Vivek the 9th one was local.
The restaurant team made arrangements for all extra guest last minute and made it a nice party!

I couldn't thank Gangaur palace team enough!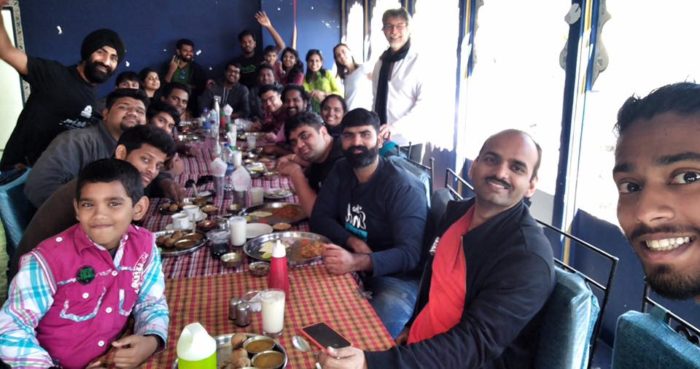 (image source)
After dinner, we moved straight to a bus stop to Ahmedabad. From Ahmedabad, six of us had a direct train to the Pune!
Other Notes
Failure of Digital Economy!
I was under impression that after last few months demonetisation drive, major cities like Udaipur and Ahmedabad would have embarassed digitial economy.
But I was shocked to see many places were only accepting cash transactions! Most of these places have digital presence but they avoid electronic payments as much as possible. All the invoices they give do not bear any tax identification.
So it is not lack of infrastructure or knowledge, but simply unwillingness to pay taxes which is failing our countries digital economy mission!
Of course, before you jump to a conclusion, in USA also, in New Youk, I ate at restaurants in Chinatown which do not give tax invoices and accept payments via cash only!
So if a country like USA is not yet 100% digital or have all transactions under legal frameworks, I am loosing hope for our country!
I think I was overly optimistic by not carrying enough cash. Although, I did get enough ATM but just by imaging what would have happened to common traveller on November 9 send shivers down my spine!
Health Concerns
Constant traveling is finally taking visible toll on my health. This trip was my third trip in row where I experienced health issues after returning home.
Looks like I need to take a break and focus on my health!
I wonder how people manage to travel so much! Or may be they are serious about fitness. I think in last month, I visited Gym only once. I already crossed 100kg line!
I need to do something about my health before it gets worse…