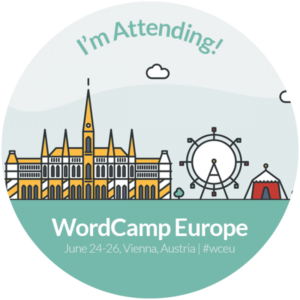 It has been more than a month that I am preparing for WordCamp Europe 2016. No, I did not get a speaker slot. As always, I am unlucky at WordCamp outside India. ?
My wife wanted to visit Switzerland from long time so we are making it as a family trip of 15 days across France, Switzerland and Austria.
My wife and son will be attending WordCamp Europe too. It will be their second WordCamp. They attended last WordCamp Mumbai (2016) but it was easy to manage thanks to help & support from all rtCampers.
WordCamp Europe is making it easy to attend WordCamp with babies with their child-care facility. This backs my opinion that WordCamp is not just a software conference. Even though WordPress is a piece of software program, the WordPress ecosystem goes much beyond technology!
May be this is a reason my wife is showing keen interest in getting involved in WordPress community. She already expressed her wish to volunteer for this year's WordCamp Pune.
Itinerary
Below is detailed day-by-day itinerary. We have many unplanned days which are awaiting your suggestions!
Paris, France
Sun, 12 Jun –  Pune to Paris flight (via Delhi). Reach Paris in the evening.
Mon, 13 Jun – Eiffel Tower and Louvre Museum Paris.
Tue, 14 Jun – unplanned day.
Wed, 15 Jun – Paris to Lucerne (via Basel). TGV Lyria Trip.
Lucerne, Switzerland
Wed, 15 Jun – unplanned evening in Lucerne.

Thu, 16 Jun – Mt Pilatus excursion and Mt Rigi.

Fri, 17 Jun – Mt Titlis excursion and Mt Stanserhorn.

Sat, 18 Jun – unplanned day.
Sun, 19 Jun – unplanned day. 
Mon, 20 Jun – unplanned day. 
Tue, 21 Jun – Lucerne – Zurich – Vienna train.
Vienna, Austria
Tue, 21 Jun – Reach Vienna by 9PM.
Wed, 22 Jun –unplanned day.
Thu, 23 Jun – unplanned day. Hoping for a post-status party. 

Fri, 24 Jun – WordCamp Europe – Day 1.

Sat, 25 Jun WordCamp Europe – Day 2.

Sun, 26 Jun WordCamp Europe – Contributor Day. 

Leave Vienna.

Mon, 27 Jun – Reach Delhi, catch connecting flight to Pune.
Attending WordCamp Europe?
If you are coming to WordCamp Europe, we can catchup there. As it will be biggest WordCamp with 2200+ attendees, it will be difficult to find each other.
As usual, I will be in rtCamp T-shirt. I am glad that rtCamp's T-shirt is not black or gray which is common color for most corporate goodies!  Rest, you can tweet me @rahul286 during event.
This reminds me about getting an European mobile SIM card with decent data plan. If you have any suggestions, please let me know. In US, LycaMobile works best for me.
So see ya at Eiffel Tower/Swiss Alps/WordCamp Europe! ?