On the highs of WordCamp Asia 2023, after a gap of 6 years, I decided to start writing again on my personal blog. Hopefully, this continues! 🤞
In the past, I have been part of a few local WordCamps and other events in different capacity. But from an organizing perspective, nothing came close to the scale of WordCamp Asia and the emotional connect I experienced with it in the past 7 years. Yes, 7 years!
If history is not your thing, or you are a Simon Sinek fan, you can jump to the "why" part directly.
Time for time travel 🍿
For big ideas such as WordCamp Asia, I believe there is not a single start point. I am sure there were many discussions between people all over the world started around the same time. I was fortunate to be part of a few of them. Here is a quick recap of history from my perspective. There can be some inconsistencies and inaccuracies. (Note to myself — that's why you should actively maintain your blog!)
My first memory of the WordCamp Asia idea dates back to the inaugural WordCamp US in 2015. As surprising as it may sound, many people from Asian WordPress communities mostly ended up meeting at WordCamp US/Europe. Due to political issues, it's hard to travel within Asia. But getting a US visa was never an easy thing for Asian people. So a few people from the Asian community wished what if we had a regional WordCamp, WordCamp Asia, where we can easily meet each other.
Just a few months before WCUS, I was done with organizing my first local WordCamp. Riding on that energy, I decided to join the pursuit!
The discussion around WordCamp Asia continued at WordCamp Singapore 2016. Subsequently, we created a Facebook group to coordinate between WordCamp organizers from Asian communities. Then at WordCamp Bangkok 2017, Petya mentioned WordCamp Asia on stage. I think that was the first formal mention on a big stage, and coming from Petya made it significant.
Things started getting formal when we, a group of people from different Asian WordPress communities, formally met Andrea and Josepha in Paris at WordCamp Europe 2017.
Thereafter, things started moving faster. We formed a steering committee, invited people to apply as organizers, and selected our lead to send formal application for WordCamp Asia. Some of us also met in person in Berlin at WordCamp Europe in 2019.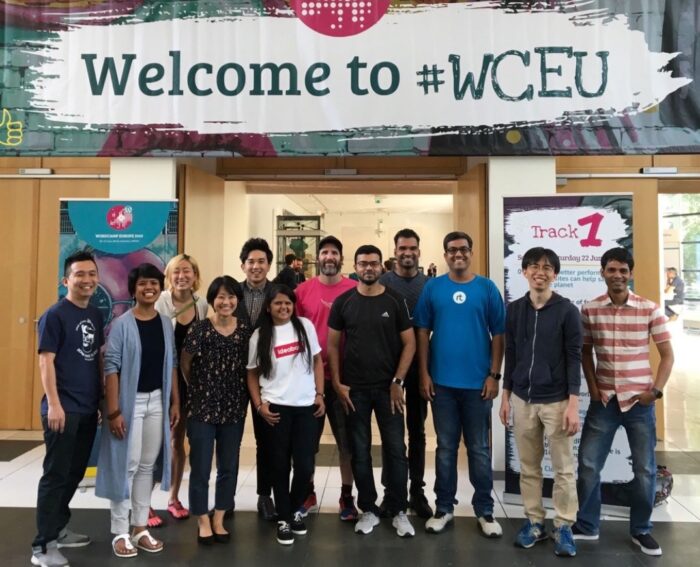 A month later, we formally announced the inaugural WordCamp Asia to take place in 2020.
I thought that was it. Within 4 years, from start to finish, we will be done with first WordCamp Asia!
But the destiny had other plans. A few days before the 2020 event, we were forced to cancel the event when the pandemic started. The cancellation was painful for everyone. Everyone on the team gave so much for the event over a year that many organizers felts shattered. We were so close…
Sailing through pandemic ⛵
For me, sailing through the pandemic was tougher for another reason. I lost someone very close to me just before the pandemic started, but soon after I signed up for WordCamp Asia 2020. It broke me to the point that, except for WordCamp Asia, I withdrew from all events. I canceled almost all travel plans, including the WordCamp US 2019 trip.
Had I suffered loss earlier, I wouldn't have signed up for WordCamp Asia at all. But the last thing I wanted to do is abandon something because of the person who taught me how to fight and rise in my formative years.
As we were all locked down in pandemic, the WordCamp Asia organizer team remained connected over Slack. We kept hoping that we will be able to resume in a few months.
As the pandemic stretched, it took longer than expected to resume the event. Some organizers could not continue when we decided to resume organizing activities in 2022. A gap of almost 2 years after cancellation.
Over the time, the speakers team, which I was part of, changed entirely. But the new team turned out to be the amazing colleagues, and we got along like a house on fire. So no complaints there!
Also, during the pandemic, my left leg got fractured. It put me on complete bed rest for 3–4 months, but thankfully I recovered enough just in time.
The pandemic in hindsight gave me some time alone that I needed to overcome the loss. Also, since I withdrew from everything else, I could focus on WordCamp Asia better. Maybe that's why I connected very well with my fellow organizers. I already miss our weekly team calls.
Why did I become an organizer? 🤔
During the afterparty, my friends asked me the above question. Some of them lead businesses. They know how much time and effort goes into organizing an event of WordCamp Asia scale. So they were genuinely curious to know why I did it!
Like most people in the community, giving back is the main driver to participate in a WordCamp in any role. I also signed up because I wanted back the idea that I was evangelizing for the last few years then. I felt it's criminal to set off a flagship event in motion and then disappear when it's time to actually organize it! 👻
What I did not plan when signing up as an organizer to work as a team lead. When I was asked to lead a team, I looked at it as just another volunteering work. It turned out to be a life-changing experience that already started benefitting me immensely at work.
Lessons learned as a CEO
There was a time rtCamp was so small that we used to all eat together. Now we have 120 people across four levels. All this scale means that I don't get to interact with most people. At the same time, I feel that rtCamp can grow faster if we can improve our mid-level management.
The WordCamp Asia team was big. We were 51 organizers divided across three levels. I was in mid-level. But unlike rtCamp's CEO, my WordCamp Asia boss always ensured that if she needed anything from the speakers team or wanted the speakers team to do anything, she communicated with the speakers team lead first. The only exception was when there was an urgency, and I was literally offline (preplanned). Still, she was kind enough to inform me in DM before directly working with the speakers team that day. 🙌
Likewise, other team leads ensured that information flowed in structured ways. Everyone prioritized discipline over urgency. I also realized we perceive a lot more things to be urgent than they actually are.
At rtCamp, I am guilty of breaking the hierarchy way too often. It may be that's why our managers don't feel as valued and as responsible, that me, as a manager (team lead) felt at WordCamp Asia. I already started fixing it and made some progress. The hardest part was to allow a manager to proceed with ideas that I was not fully sold on.
There may have been times when Naoko or other team leads were not fully sold on my ideas, but they allowed me to take ownership of things related to the speakers team. Looking back, I do realize that I did make many mistakes. In fact, I already sent a long list of things we could have done differently, hoping the next team do some of them differently.
Working with Naoko, felt more like working with a coach/mentor rather than a working with boss. I wish I can be calm and patient like her.
We often talk about "leading from the front". But may be to create new leaders, you need to lead from the backstage sometimes.
Visualizing the end game
Just a few lines above, I was talking about scaling an organization, and now I am jumping to the other extreme! 🤯
I wish we never had to think about visualizing end game. But in his parting blog post, Pippin Williamson wrote about three possible fates a business will eventually face:
1. It will one day be passed on to someone else, perhaps through family inheritance
2. It will slowly or rapidly decline and at some point be shut down entirely
3. It will be sold to a new owner for one reason or another
Of course, nobody wants #2 to happen. I am personally against #1. That leaves #3 from the above list and #4, which I roughly describe as "become an employee-owned and professionally managed institution". It is #4 possibility, for which improving mid-level management is critical.
But if #4 fails, among the above three, #3 is what would be the second-best option to have.
From the last few years, like other WordPress businesses, we have been approached by a few larger companies. Of course, nobody made us an offer we couldn't refuse! 😛
But when all that was happening, I wondered, how it would feel to be part of a bigger organization if we ever decide to get acquired.
Moving from having no formal boss to reporting to somebody. Having some say, but not having the final say. Requesting approvals. Being required to follow things you do not agree personally.
I cannot say I experienced "end game" stimulation fully while working at WordCamp Asia. First, being part of WordCamp Asia from the ideation stage meant there was hardly anything there which was not aligned with my personal vision with WordCamp Asia. Also, volunteer-driven events generally have a lot more positive energy than for-profit corporations.
But like all large communities, we had a few people one wishes to avoid running into. If I had to report to such people, I might have stepped down mid-way. Of course, Naoko made sure that nobody had to deal with it. Again, great leadership.
This thought made me realize that the common phrase "People leave managers, not companies" is indeed true.
This also made me realize for all the good things a bigger company would bring to the table, if I end up reporting to a bad boss, I would have to call it quit. Of course, the manager's manager or ultimate boss might be able to handle things nicely. But then it will be always hit or miss.🤞
Takeaway
Sign up to be an organizer for a WordCamp. It doesn't matter whether it is a flagship event or you have a flagship job title. 😎
I learned a lot from local WordCamps and even meetup groups too. It feels good to work with people driven by passion and a hunger to give back. You will learn a lot from people like these. 🤗
Applications are open for the WordCamp Asia 2024 team. 🚀